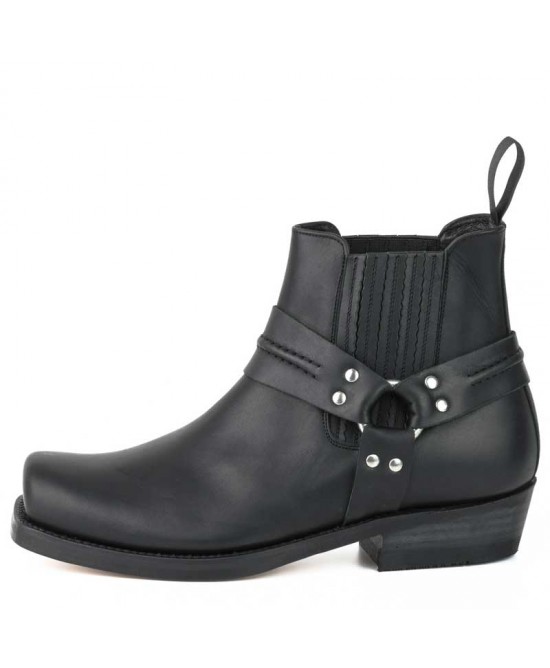 Mayura - 004 / 1506
Smooth Leather Ankle Boot With Harness Strap
These Mayura ankle cowboy biker boots are for men and women alike. They are very practical boots and popular if you have a particularly wide calf and find high boots uncomfortable. The smart simple appearance makes them a choice of many people for everyday wear.

The outer material is Pull Grass Leather which is a waxed and oiled cowhide that has a lovely satin matte finish and will age beautifully. The oils within this high-quality leather help to keep it waterproof making the boots suitable for motorcycling as well as everyday casual wear. If the leather becomes scratched or too dry the finish can normally be revived quite easily with just a little work. The riveted O ring harness straps are not removable and there are loops at the back to help pull them on together with elasticated side panels to allow easy entry and a snug fit.
.
We love this kind of quality and hope you do too particularly the look of the leather although it does not need a lot of attention we do recommend treating the leather at regular intervals and particularly if the boots have become very wet. We recommend brushing with a nylon Combi Brush to remove marks and scratches then apply Rustical lotion or cream which will revive and feed the leather. Sole Guard should be applied to leather soles to help extend their life and to help keep the water out. If your boots get a lot of use we advise fitting a thin rubber sole once the leather starts to wear which will greatly extend the life of the soles and the rubber can be replaced as they wear. The soles are Goodyear Welted so in extreme cases the whole leather sole can be replaced by a good cobbler however this is not normally necessary.
Please see our information pages regarding boot care and further information on leather.
Size Conversion Chart

​
Buy With Confidence
Price Promise
We are proud of our boots and prices and constantly checking our prices to ensure that we are giving you the best value possible. If you find another website where you can get a better deal, please contact us, we can normally beat that price by at least 5%. We can not always match competitors sale or special offer prices but ask anyway as we often can. Email: cowboybootstore@gmail.com Phone: 0114 2493461
Delivery Time:
UK orders are normally delivered next working day Monday to Friday, if the boots are in stock and the order is placed before 1pm. We receive constant restock shipments so any out of stock delay is normally just a few days, if there is to be any extended delay with your order we will contact you with an estimated delivery date and giving you the option to cancel if you wish. If your order is urgent please call us and check availability before ordering.Europe/Outside Europe is normally 3-6 days from date of dispatch.
Exchanges / Returns:
Don't fit? Just don't like them? No problem:) We accept returns up to 30 days after the date of dispatch and if you want an exchange we will send out another pair with no extra shipping charge on most UK orders. Just fill in the Returns section at the bottom of the page under "Customer Service". Goods must be returned unworn (apart from trying on) and in original packaging. Please look after the boots whilst in your possession and please only try them on a carpeted surface. For full details see our Terms and Conditions at the bottom of this page.
Mayura