Full Grain Leather is known for its strength, resilience, and appearance due to its dense amount of fibres. Depending on the tanning process used, the texture and look of full-grain leather can vary, but it tends to have natural flaws as the only hair on the hide is removed leaving marks on the material. Most high-end brands and leather producers use Full Grain Leather in their products because of its high durability.
Top Grain Leather, on the other hand, undergoes a sanding process to remove any natural markings, making it easy to dye or shape the leather. It's still considered high-end leather despite having no natural flaws.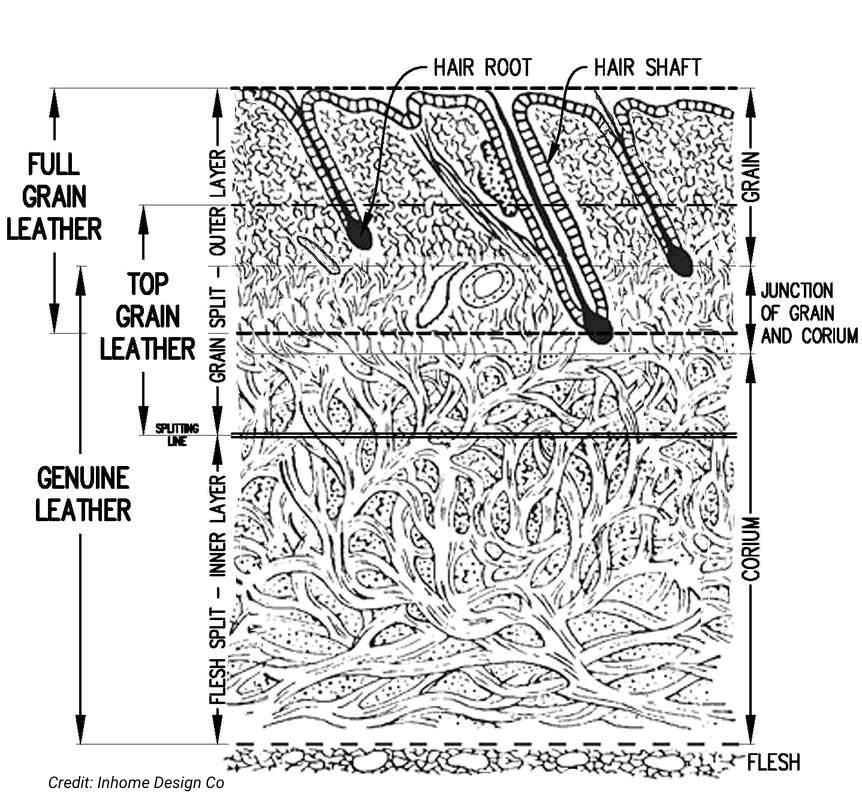 Nubuck has a feel similar to suede but it's more durable since it comes from the top grain of the hide. It has a great look and feel and is used for a wide variety of products. It brings together some of the finer qualities among the various kinds of leather.
Nubuck leather has a texture similar to suede, but it is more durable due to its origin from the top layer of the hide. This leather is highly versatile and can be used in a wide range of products, combining some of the best qualities from different types of leather.
To create nubuck leather, the outer layer of calfskin or cowhide is utilized, which is the top-grain layer. This layer is tougher and more resilient than the inner layer used to make suede. However, the top grain may have visible marks and defects, which are sanded and buffed on the outside to provide a uniform appearance. The sanding process leaves a slight nap of short protein fibres, resulting in a velvety texture on the leather. To cover any remaining defects on the nubuck surface, it is stained or dyed. Scuffs can easily be removed by brushing the leather fibres with a Nylon Combi Brush and then applying Rustical Lotion.
Smooth leather refers to leather that has been dried with the grain side pressed against a smooth surface, typically a sheet of plate glass. This process gives the leather a very smooth and uniform appearance on the hair side, with little to no visible grain texture. However, the amount of grain texture present can still vary depending on the type of animal the leather was taken from. Smooth leather is also sometimes referred to as "plated leather". Smooth leather only refers to the appearance so it could be from any animal hide but some hides such as crocodiles have much more texture and usually are best desired when kept in their natural form. Smooth leather has a shiny finish which often gets mistaken for fake leather. To look after smooth finished leather we recommend using 1909 Cream to restore its shine and colour.

Suede is not as strong as Full Grain or Top Grain Leather, but it's still valuable in the leather world. It's made from the inside of the hide, while Nubuck is created by buffing and sanding the outer layer, which is stronger and more durable. Split-Grain Leather, which is cut from the lower layers of the hide, is used to create both suede and the material that Crazy Horse Leather is made from. Recommended care products for this leather are Clean and Care and Crepe Brush.
Crazy Horse Leather is a type of Nubuck made from full-grain leather that gets better and more beautiful with time and usage. Special waxes and oils are applied at high temperatures, resulting in a very water-resistant and long-lasting material with a matte finish. When the surface is rubbed, the colour changes, creating a rugged, worn effect. It can easily be restored with minimal effort using recommended care products such as Rustical Lotion., Nylon Combi Brush and Nubuck Box.
Pull Oil Leather is also a full-grain leather treated with oils and waxes during tanning. However, it retains its natural texture and has a matte finish. The oils thin out when the leather is pulled, causing the colour to lighten in the stretched areas. The leather is finished with a combination of transparent waxes and oils, giving it a soft hand or feel. As a pure aniline leather, marks, scratches, and signs of wear will show and a rich patina will increase over time. Recommended care products for this leather include Nylon Combi Brush and Rustical Lotion.