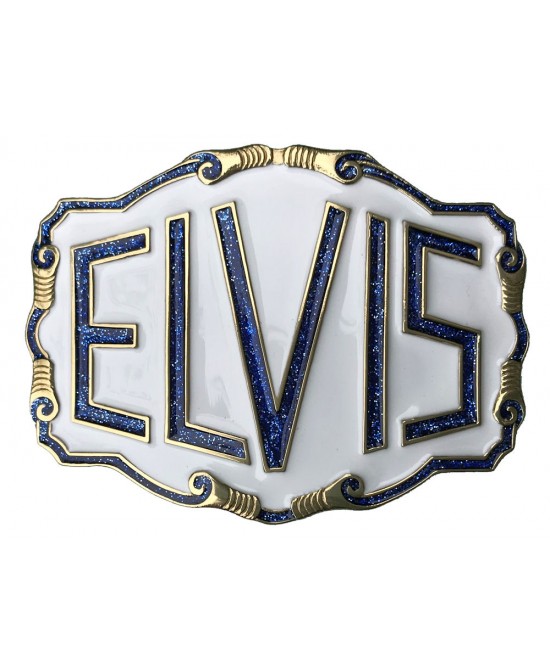 Belt Buckle - Elvis Blue Glitter White
Belt Buckle - Elvis Blue Glitter White
Embrace the timeless allure of the King of Rock 'n' Roll with our dazzling Western Belt Buckle - ELVIS edition! Proudly featuring the iconic name "ELVIS" written in bold, captivating blue glitter, this buckle pays homage to the legendary music sensation that captured the hearts of millions.
Against a clean, pristine white background, the charismatic blue glitter takes centre stage, reflecting the spotlight that always shone on the one and only Elvis Presley. The blue hue symbolizes the soulful melodies that defined an era and the magnetic charm that made Elvis a global sensation.
Adding an element of regal elegance, the edges of the buckle are adorned with shimmering gold borders, elevating its design to a level of sophistication that befits the King's legacy. The contrast of blue, gold, and white creates a visually stunning masterpiece that captivates the eye and stands as a testament to the charisma of a true music legend.
Crafted with meticulous attention to detail, this Western belt buckle is not just a fashion accessory but also a cherished memento celebrating the legacy of Elvis Presley. The combination of high-quality materials ensures both durability and style, making it a standout piece that will continue to shine bright for years to come.
Whether you're a dedicated fan paying homage to the King or a lover of Western-inspired fashion looking to add a touch of stardom to your outfit, the ELVIS Western Belt Buckle is the perfect choice. It makes for a thoughtful gift, allowing fans and fashion enthusiasts alike to carry a piece of Elvis' spirit with them wherever they go.
Celebrate the rock 'n' roll era and the magnetic presence of Elvis Presley with this one-of-a-kind ELVIS Western Belt Buckle. Step into the spotlight and let the world witness the magic of the King!
Model:

Belt Buckle - Elvis White Blue Glitter