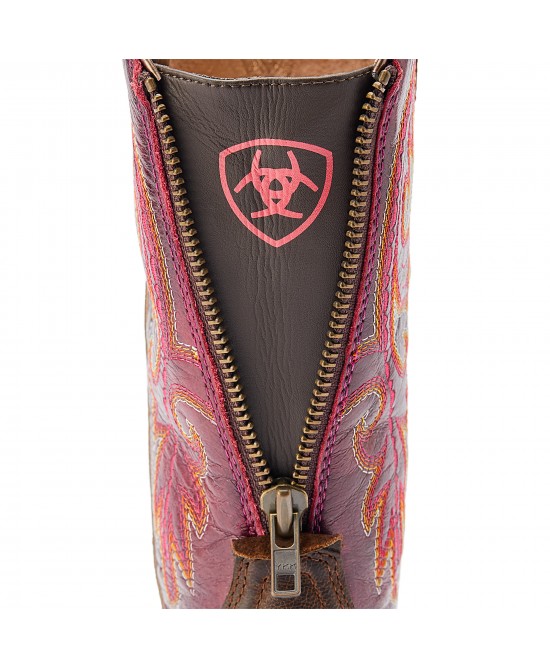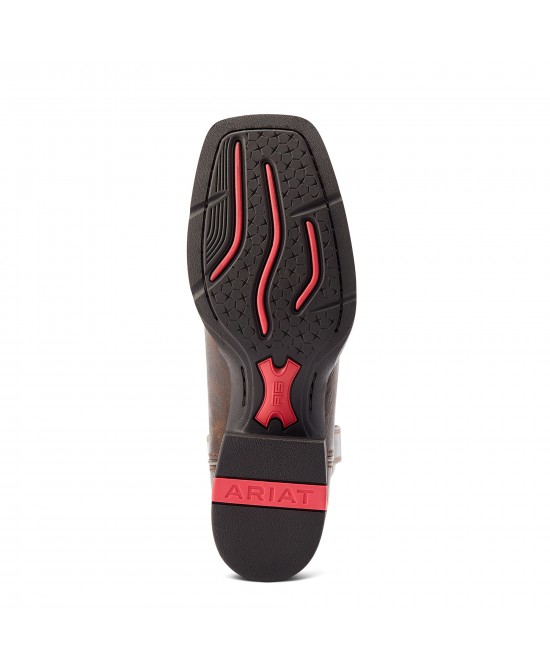 Ariat - Round Up Back Zip Western Boot
Ariat - Round Up Back Zip Western Boot
This brand-new Ariat style is perfect for those who struggle to fit their calves in high boots. The zip at the back can be regulated to fit you perfectly.
Introducing our fabulous Round Up Back Zip Cowgirl Boots with a contemporary twist! These boots are designed to capture the spirit of the wild west while incorporating modern comfort and style. With their square toe and eye-catching colour combination, these boots are a must-have for any cowgirl with a flair for fashion.
The toe of these boots showcases a rich brown hue, giving them a classic and timeless appeal. Meanwhile, the vibrant raspberry pink on the shaft adds a bold and feminine touch, making them truly stand out from the crowd. The shaft is further adorned with exquisite pink embroidery, adding a touch of elegance and uniqueness to each pair.
One of the standout features of these boots is the convenient zip located on the back, which allows for easy wear and provides additional space for those with larger calves. We understand the importance of a comfortable fit, and these boots have been specifically designed to accommodate varying calf sizes without compromising on style.
Crafted with a synthetic sole, these boots offer durability and stability, making them perfect for horse riding adventures. The synthetic sole also ensures that you can confidently strut your stuff on various terrains, whether you're riding through the fields or dancing the night away at a country hoedown.
These Cowgirl Boots are not just stylish; they're practical too. With their comfortable fit and reliable construction, they are the ideal footwear choice for any cowgirl enthusiast. So saddle up, embrace your inner cowgirl, and step into the world with confidence and style wearing our exquisite Cowgirl Boots!
*Measured at the bottom of the "V" on a size 39EU. Please consider size variations.
Ariat's ATS® technology features a moisture-extracting footbed for comfort, a gel-cushioned footbed with heel stabilizer for shock absorption and support and a lightweight composite forked shank for stability, these boots also come with a Goodyear leather welt and long-lasting Duratread™ outsole.
Recommended care products:
Nylon combi brush, Rustical Cream or Wax Leather​
​
Buy With Confidence
Price Promise
We are proud of our boots and prices and constantly checking our prices to ensure that we are giving you the best value possible. If you find another website where you can get a better deal, please contact us, we can normally beat that price by at least 5%. We can not always match competitors sale or special offer prices but ask anyway as we often can. Email: cowboybootstore@gmail.com Phone: 0114 2493461
Delivery Time:
UK orders are normally delivered next working day Monday to Friday, if the boots are in stock and the order is placed before 1pm. We receive constant restock shipments so any out of stock delay is normally just a few days, if there is to be any extended delay with your order we will contact you with an estimated delivery date and giving you the option to cancel if you wish. If your order is urgent please call us and check availability before ordering.Europe/Outside Europe is normally 3-6 days from date of dispatch.
Exchanges / Returns:
Don't fit? Just don't like them? No problem:) We accept returns up to 30 days after the date of dispatch and if you want an exchange we will send out another pair with no extra shipping charge on most UK orders. Just fill in the Returns section at the bottom of the page under "Customer Service". Goods must be returned unworn (apart from trying on) and in original packaging. Please look after the boots whilst in your possession and please only try them on a carpeted surface. For full details see our Terms and Conditions at the bottom of this page.
Ariat