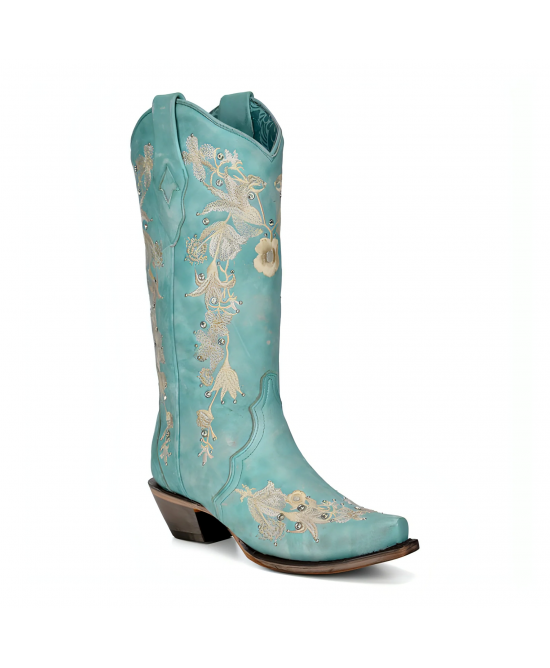 Corral A4239
Corral A4239
Introducing the perfect cowgirl boots for brides and bridesmaids alike! Handmade and hand cut with care, these beautiful blue boots are crafted from soft leather with white embroidered floral patterns and gems that add a touch of sparkle and glamour.
Crafted in Mexico with leather soles and linings, these boots are built to last and are designed to provide the perfect blend of style and comfort. The soft blue leather adds a touch of elegance, while the white floral embroidery and gems add a touch of whimsy and glamour that is perfect for special occasions.
These cowgirl boots are the perfect choice for brides or bridesmaids, with their stunning design and high-quality construction. They're versatile enough to pair with a range of outfits, from a simple dress to a full-on Western ensemble, and their unique design is sure to turn heads and make a statement.
Overall, these cowgirl boots with soft blue leather, white embroidered floral pattern, and gems are a beautiful and unique addition to any collection. Handmade and hand cut with care, they're sure to become a cherished piece that you'll love to wear on special occasions for years to come.
*Measured on a Size 8US. The calf circumference tends to variate 1/2cm for every size up or down. For example, a size 8US with a calf circumference of 40cm would have a circumference of 41.5 in size 9. If you need precise measurements we are happy to measure the size you want for us. Just email us at cowboybootstore@gmail.com with the link to the style you want and the size you want.

Buy With Confidence
Price Promise
We are proud of our boots and prices and constantly checking our prices to ensure that we are giving you the best value possible. If you find another website where you can get a better deal, please contact us, we can normally beat that price by at least 5%. We can not always match competitors sale or special offer prices but ask anyway as we often can. Email: cowboybootstore@gmail.com Phone: 0114 2493461
Delivery Time:
UK orders are normally delivered next working day Monday to Friday, if the boots are in stock and the order is placed before 1pm. We receive constant restock shipments so any out of stock delay is normally just a few days, if there is to be any extended delay with your order we will contact you with an estimated delivery date and giving you the option to cancel if you wish. If your order is urgent please call us and check availability before ordering. Europe/Outside Europe is normally 3-6 days from date of dispatch.
Exchanges / Returns:
Don't fit? Just don't like them? No problem:) We accept returns up to 30 days after the date of dispatch and if you want an exchange we will send out another pair with no extra shipping charge on most UK orders. Just fill in the Returns section at the bottom of the page under "Customer Service". Goods must be returned unworn (apart from trying on) and in original packaging. Please look after the boots whilst in your possession and please only try them on a carpeted surface. For full details see our Terms and Conditions at the bottom of this page.
Corral Circle G